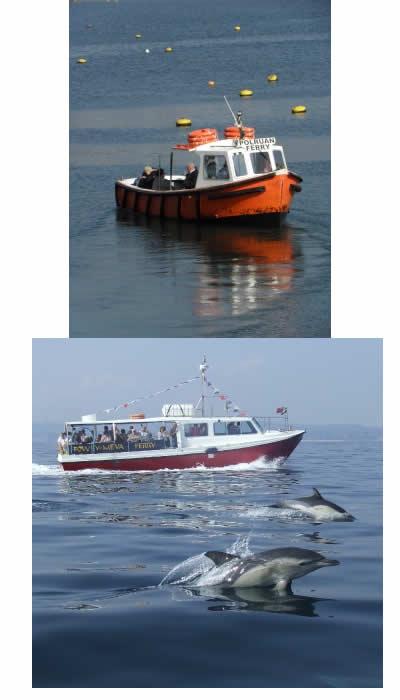 Top: Polruan Ferry, Bottom: Mevagissey Ferry
This area was first recorded as Whitehouse Meadow in 1622 when a lease was granted for the building of a White House and garden. Seventy years later, 'liberty to land and carry sand with horses and ploughs' was given.

It is the main landing place for the passenger ferry from Polruan. This was originally a rowing boat and the first motor boat was introduced in 1912. Today it is still used in the summer by the ferry to Polruan and there is also a service to Mevagissey.
From the 17th to the 19th centuries there was a gun battery hear defending the harbor and 5 cannons were noted in 1786. Nearby is the Haven, once the home of Sir Arthur Quiller Couch (1863-1944), an academic, poet and author and one of Fowey's most famous residents.
The 'red rocket', on the site of a former lighthouse, is a navigation aid and the light is visible for 8 miles. There is a children's paddling pool and a small sandy beach is uncovered at low tide.

The glass and concrete shelter was presented to Fowey by the US Navy in recognition of their hospitality during their training in the lead up to 'Operation Overlord' in the Second World War.
Research Carol Eardley
Sources: John Keast, The Story of Fowey,( Dyllansow Truran, 1987); Catherine Parkes, Fowey Estuary Historical Audit, (Cornwall Archaeological Unit, 2000); Cornwall Record Office, TF/556 & TF/557.