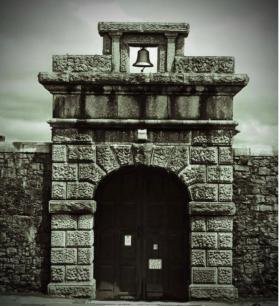 'Nelson's Forgotten Surgeon' - Dr George Magrath. An illustrated Zoom talk by Barbie Thompson
Date/Time: Saturday 19 February. Zoom starts at 19.00
Venue: Delivered by Zoom
Cost: Free for FHHS members, £8 for non members.
Contact: Tickets can be purchased via https://app.tickettailor.com/events/foweyharbourheritagesociety/633843 or contact our Treasurer, Andrew Gardner 07769977116 or andrew@gardner.be

George Magrath was for a time surgeon on board HMS VICTORY and was favourably considered by Nelson. Having dealt at Nelson's request with an outbreak of Yellow Fever in Gibraltar, Magrath missed the Battle of Trafalgar. Instead, he was serving as medical officer at Mill Prison the Prisoner of War Depot at Millbay, Plymouth. It was therefore William Beatty, a fellow Ulsterman, who was present at the death of Lord Nelson. Later Magrath was transferred to Dartmoor Prison and was the Chief Medical Officer in attendance during the shooting of American POWs. He was knighted for his medical services.
BARBIE THOMPSON
Barbie grew up in Plymouth, Devon and is a historian with a particular interest in Napoleonic prisoners of war. She is a regular speaker on this topic and has spoken at various UK Conferences at University level – Exeter, Oxford and London. Following the success of the International Conference on the War of 1812, held at London University in July 2012, Barbie was invited to present her paper again on 'The Role of Plymouth and Dartmoor during the War of 1812' at the 'From Enemies to Allies' International Conference held at the U.S. Naval Academy in Annapolis in June 2013.


›› Download details of the talk on 'Nelson's Forgotten Surgeon' - Dr George Magrath. An illustrated Zoom talk by Barbie Thompson (pdf)