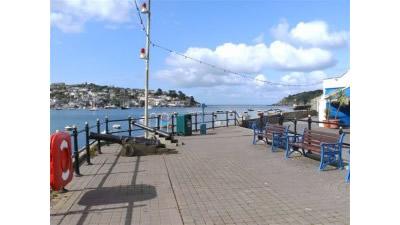 Town Quay, Fowey
The town quay has long been the official site for imported and exported goods to and from Fowey. It was the site of the Havener's Court in the medieval period. This was an office created by the Black Prince to collect dues from shipping and to settle maritime disputes. In later centuries it became the base for the collection of the harbour dues. The Town Hall was built in 1785, incorporating part of the 15th century Guild Hall and underneath was a meat and fish market. Under the King of Prussia pub on the quay was the buttermarket. On the wall of this quay is an inscribed plaque commemorating over 1,000 Americans who embarked for Normandy in June 1944, having been based in Fowey.
Research Helen Luther
Sources: John Keast, The Story of Fowey,( Dyllansow Truran, 1987); Maryanne Kowaleski, The Haveners Accounts of the Earldom and Duchy of Cornwall, 1287-1356. Vol. 44, Devon and Cornwall Record Society (Exeter: DCRS, 2001).