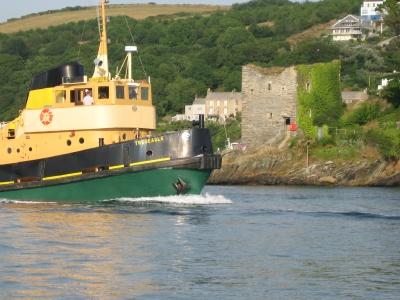 Tug 'Tregeagle' Passing Polruan Blockhouse
This building, (referred to locally as the Castle) on the Eastern bank of the Fowey, estuary was one of a pair of defensive structures. Built in 1380, they were to defend against French, Spanish and Dutch attacks. The second is on the Fowey side ("ruined beyond hope"), built into the rock. The structures had 6ft thick walls and were 4 storeys tall. The two blockhouses were linked by a metal chain, 16 inches thick, which could be raised during an attack, preventing vessels from entering the harbour and leaving them vulnerable, from both sides.

The chain was removed in 1478 by Edward IV and sent to Dartmouth apparently because of the outrageous behaviour of local pirates, Treffry and Michelstow.

Royalists held the Blockhouse during the Civil Wars (1642-1651) and prevented the Roundheads (Parliamentarians) leaving by ship.
Research Linda Parker
Sources: Catherine Parkes, Fowey Estuary Historical Audit, (Cornwall Archaeological Unit; 2000); Helen Doe, A Fair and Commodious Haven: The History of the Harbour of Fowey. (Truro: Truran, 2010); John Keast, The Story of Fowey, (Dyllansow Truran, 1987)