St. Wyllow, Lanteglos by Fowey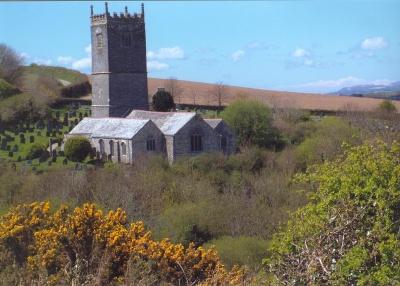 Church of St. Wyllow, Lanteglos
The story goes that St Wyllow, a Christian hermit, was living nearby in Pont around 596. Legend has it, that he was killed by a relative and beheaded. St Wyllow brought the head to the current location, thus deciding where the church should be built.
The location seems a bit isolated, but the church serves Polruan, Bodinnick and the wider parish and is central to them all. The building dates mostly from the late fourteenth century. The tower is 70 feet tall, in four stages and stands on four piers. The belfry has six bells (described as 'silver tongued' by Sir Arthur Quiller Couch). The church itself comprises a chancel, nave, and north and south aisles. The east end of the south aisle appears to have been the burial place of the Mohun family of Hall.
Descriptions of the detailed oak carving, brasses, medieval glass, coats of arms and Pentewan Stone use words such as 'fine, exquisite and impressive'. All in all, to quote Q again, it is 'worth a day's journey to see'.
Research Nancy Jolliff
Sources: N.A. Ackland & R.M. Druce, Lanteglos by Fowey: The Story of a Parish (Fowey, 1978); C. Henderson, Cornish Church Guide, (Truro, 1925)