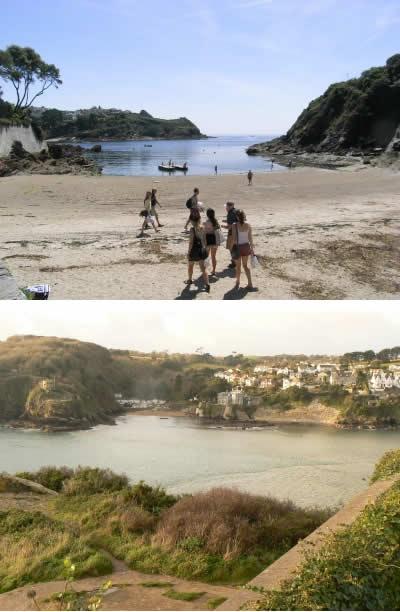 Top: Readymoney Beach, Bottom: Readymoney and Neptune Point
The name 'Readymoney' is developed from the Cornish word 'roswyd basdowr', translated to 'redeman' meaning a shallow ford of stones. It has been suggested that this was a very early pre-mediaeval trading place. In 1792 pilchard cellars were constructed here on the site of a former gun emplacement. The cellars were 52 feet long and 24 feet wide with walls over 2 feet thick. In one year alone, 60,000 hogsheads of pilchards, caught in St Austell Bay, were exported from Fowey. There was also a limekiln, now converted into a public shelter. Lime was needed as a fertiliser for the acid Cornish soil. In 1833 a schooner named the Catherine was launched from the beach by George Nickels.

To the left of the cove is an elegant stone house, Point Neptune, built in Italianate marine villa style in the 1860s for local landowner William Rashleigh. The stables and coach house for Point Neptune House were situated down at the head of the cove.

Research Janet Anderson
Sources: Catherine Parkes, Fowey Estuary Historical Audit, (Cornwall Archaeological Unit; 2000); John Keast, The Story of Fowey,( Dyllansow Truran, 1987); Isobel Pickering, Some Goings On! A Selection of Newspaper Articles About Fowey, Polruan and Lanteglos Districts from 1800-1899 (Fowey: Author, 1985).