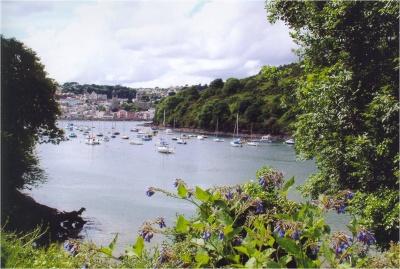 Pont Pill
It is thought that Pont began as a settlement when the parish's first Celtic saint, St Wyllow, came and settled in a cave by the head of Pont around 596.
Despite its tidal location, the quay became important for trade between farms of this area and other coastal communities. Imports were roadstone, bricks, coal, manure and flour; exports were grain and logs. In 1814 a granary, limekilns, malt houses and a warehouse was recorded, later owned by John Hicks. It also had a corn mill and sawmill, a beer house and blacksmith shop.
Part way up Pont Pill (Creek) towards Polruan was the site of the Isolation hospital in 1889 for sailors arriving with infectious diseases such as yellow fever. Later a private home, it burned down in 1993. Post World War I the Pill was the final resting place for many locally built wooden sailing ships. It was here that Daphne du Maurier discovered the schooner, Jane Slade, which was to inspire her first novel.
Research Martin Dykes and Maureen Ogg
Sources: Catherine Parkes, Fowey Estuary Historical Audit, (Cornwall Archaeological Unit; 2000); N.A. Ackland & R.M. Druce, Lanteglos by Fowey: The Story of a Parish (Fowey, 1978)