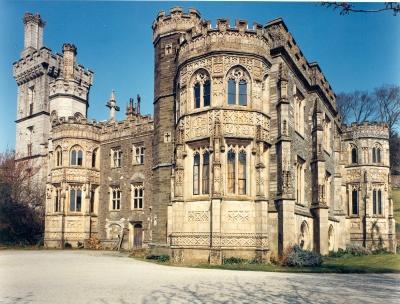 Place
In the heart of Fowey and above the church is the castellated tower of Place, sometimes called Place House. This has been the home of the Treffry family since the 13th century. During the middle ages the Treffrys became very wealthy merchants exporting tin, fish and wool. John Treffry was granted a knighthood by Henry Tudor. In 1475 Dame Elizabeth, wife of Thomas who was away fighting in France, rallied her household and successfully repelled the same French marauders who destroyed the church. Word has it that the defenders poured boiling lead, stripped from the roof, upon the heads of their attackers. The house was much damaged and what you see today is what remains of a 16th century rebuild incorporating fortifications against further assaults and also asserting the prestige of the owner. It was extensively remodelled by Joseph Thomas Treffry in the early nineteenth century. It is still occupied by the Treffry family as a private residence and is not open to the public. The best way to see Place is from the river.
Research Karen Ouzman
Sources: John Keast, The Story of Fowey,( Dyllansow Truran, 1987) ; John Keast, The King of Mid Cornwall: The Life of Joseph Thomas Treffry, 1782-1850 (Truro: Dyllansow Truran, 1982).