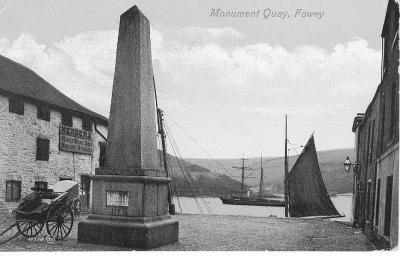 Original Site of the Albert Quay Memorial
Originally this area was called Broad Slip as it was a slip way. Sailing schooners moored here, side by side, with their bowsprits protruding across the roadway. The slipway was filled in in the 1840s and was renamed Albert Quay after the visit of Queen Victoria and Prince Albert in 1846. The steps were named Victoria Steps. A large monument was also positioned on this quay in memory of this royal visit. By 1939 the motor car had become important and the monument was removed to make room for a car park. The monument was split with the pointed apex being used as a landing slip just below Penleath Point, on the left hand side of the entrance to the creek known as Pont Pill. The huge granite base is now part of the wall surrounding Brazen Island, the Harbour Commissioner's boatyard, on the other side of the river. 1977 was Queen Elizabeth II's Silver Jubilee and to celebrate this anniversary the pointed apex was removed from the river and re – erected at Caffa Mill, very close to the car ferry. So – one monument commemorating two royals!
Research Lynn Goold
Sources: Billie Graeme and Jim Matthews, Selected Pictures of Fowey Past and Present, (Crewkerne: H & B Graeme, 1977) ; Catherine Parkes, Fowey Estuary Historical Audit, (Cornwall Archaeological Unit; 2000).